"I'd just like to get your photo into my scrap book" Gary explained "my memories, you see" he added, almost apologetically. This was the point at which I finally understood the passion behind the hospitality we had experienced for the last two glorious nights.
We arrived at Lake Taupo Lodge a little after 4pm on Saturday 4th April 2015. The plan was to spend a weekend simply enjoying the beauty of New Zealand's largest lake over Easter while the weather was still fine.
The first thing you notice when you arrive at Lake Taupo Lodge is the beautiful way in which it has been appointed. Every detail immaculately and exquisitely chosen for a specific purpose: to evoke a sense of being in a comfortable, opulent and interesting home. Everywhere you turn you see another new and interesting thing. Or, more accurately, a collection of things. From the musical instruments arrayed within the sun room to the series of measuring weights sitting on the kitchen counter, to the decorative pickles in the dining room, the house is filled with unique and interesting collections.
Collections no less interesting than the proprietor himself. Having worked in the textile industry for many years, Gary has travelled the world over and from his travels has developed a knack for collecting interesting things which he uses to adorn his beautiful lodge. Like all guest house accommodation, the experience relies considerably on the hosts themselves. Gary and Shirley appear to have their roles down pat, causing Burt Reynolds himself to declare Gary "the best of New Zealand".
High praise from someone who has undoubtedly seen some very fine accommodation, but I don't think its hyperbole at all.
The crown of this accommodation has to be the Lake Suite we stayed in. Featuring stunning panoramic views of Lake Taupo over the immaculate garden and a most welcome spa bath, you could be forgiven for believing just for one night, that you really are the most important person in the world.
This is a feeling Gary works hard to engender. "Everyone is equally important" he opined to me solemnly when I remarked on the long list of distinguished guests he has hosted: everyone from intrepid adventurer Michael Palin to director Peter Jackson. He follows this philosophy through with his actions. No task is too small but that he would do it to ensure your comfort. I encourage any visitors to relax into the experience and settle into the natural cadence of the place. Breakfast is at 8am, canapés will be served in the gaming room at 6pm. Go out to dinner at one of the local restaurants and spend your evening drinking in the tranquillity of the great lake.
The canapés were exquisite, featuring pâté made from smoked trout caught by Gary himself using his own hand-made flies. Somehow, although the lodge was completely full for the weekend, we felt as though we were the only ones there. I think this is in part that it's spacious enough for a sizeable group of people and also Gary works hard to give every guest a personalised experience.
Breakfast featured its own chef (Stefan from Germany) and an impressive menu to choose from. Breakfast was served in a style that reminded me of my grandfather: a leisurely multi-course affair befitting the most important meal of the day. We started with a continental breakfast with toast, cereals, croissants, yoghurt and fruit as well as a hot option (eggs benedict for me, pancakes for Freddy).
The gardens have an old English design stuffed full with native New Zealand plants. A boulevard of living ferns leads you past a Koi-stocked water feature to little secluded spots within the garden.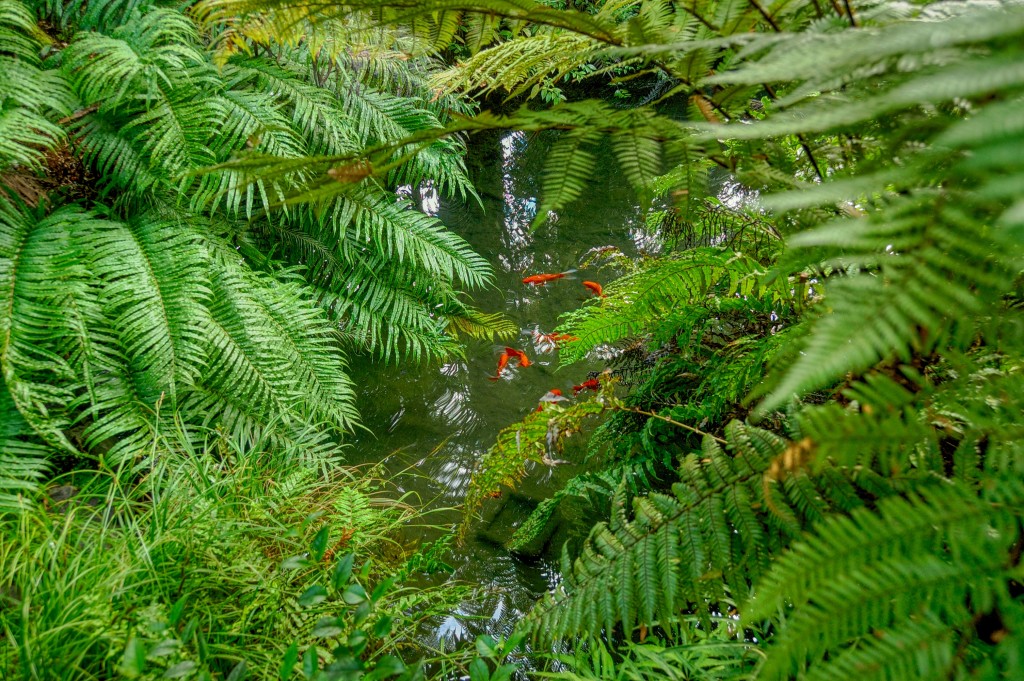 Flowers from the herb garden adorned my eggs benedict the next morning and every night our bed was laid with fresh lavender cut from the little topiary garden. I especially enjoyed the passion fruit adorned greenhouse featuring some well cared for flowers.
I think I understand somewhat the motivation behind Gary's work. You see, he is a collector, not just of things but of experiences and when you collect such a broad range of interesting experiences and things the only natural thing to do next is to share them with as many people possible. In doing so, Gary is able to collect one more thing: us. I am proud to be nestled among the leaves of Gary's scrap book, rubbing shoulders with the rich and famous. Not because they are rich and famous, but that in shared experiences we enrich each other's lives in immeasurable ways. Perhaps this is why so many guests feel compelled to leave a piece of themselves behind: to become a part of the experience that is Lake Taupo Lodge.